These places are in the Fifty Shades of Grey trilogy that EL James wrote into the books.
Companies
SIP
Seattle Independent Publishing (SIP) is a fictional publishing house located in Seattle, Washington.
In Fifty Shades Darker, Christian purchases SIP, saying that it is the most profitable of four publishing houses in Seattle, but it is on the cusp of stagnation. In Fifty Shades Freed, Christian tells Ana that he plans to change the company's name to Grey Publishing, and that he wants to put her in charge of the business. By May 2014, the company has branched out into e-books and is doing very well under Ana's leadership, despite the poor economy. Jack crashes SIP soon and wants revenge on Grey.Grey stays cool because he can.
Employees
Anastasia Steele - Personal Assistant to Commissioning Editor Jack Hyde; later Editor, then President
Claire - Administrative Assistant
Hannah - Personal Assistant to Anastasia Steele (as of Fifty Shades Freed)
Jessica - Editor - she is one of the editors that Ana hired to help out in the company (she was a doctors degree in editing and is one of Christians past submissives)
Elizabeth Morgan - Head of Personnel - she was fired later on but there is little information why she got fired.
Jack Hyde - Commissioning Editor - He was fired from the company due to he tried to crack on Ana because Christian owned the company and so he found out what he did and fired him ASAP.
Courtney - Comissioning Editor - She got fired for misconduct and that she did a wrong thing towards the company.
W S U V
Washington State University Vancouver (WSUV) is a public research university based in Pullman, Washington, in the Palouse region of the Pacific Northwest. Founded in 1890, WSU (colloquially referred to as Wazzu) is the state's original and largest land-grant university.
The university is well known for its programs in veterinary medicine, agriculture, animal science, food science, plant science, architecture, neuroscience, criminal justice, and communications. It is ranked in the top-ten universities in the US in terms of clean technology and it is one of 96 public and private universities in America with "very high research activity," as determined by the Carnegie Foundation for the Advancement of Teaching.
WSU is ranked among the top half of national universities at 115th according to U.S. News and World Report. The university also has satellite campuses in Spokane, Tri-Cities, and Vancouver, all founded in 1989. In 2012, WSU launched an Internet-based Global Campus, which includes its online degree program, WSU Online.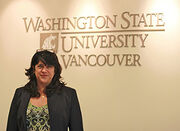 These campuses award primarily bachelor's and master's degrees. Freshmen and sophomores were first admitted to the Vancouver campus in 2006 and to the Tri-Cities campus in 2007. Total enrollment for the four campuses and WSU Online exceeds 25,900 students. In 2009, this included a record 1,447 international students, the highest since 1994 when there were 1,442.
WSU's athletic teams are called the Cougars and the school colors are crimson and gray. The six men's and nine women's varsity teams compete in NCAA Division I in the Pacific-12 Conference.
For further reading
Discrepancies
Although WSU's main campus has The Edward R. Murrow School of Journalism, the Vancouver campus doesn't actually offer a major in Journalism, and only offers a minor in Communications.
OHSU
Oregon Health and Science University Hospital (OHSU) is a Level I trauma center and teaching hospital in Portland, Oregon. This hospital was ranked 23 in the United States by US News and World Report in 2011 for its ear, nose and throat specialties.
In, Fifty Shades Freed, Ray, Mr. Rodriguez and José are injured in a car accident while on a fishing trip in Astoria. Mr. Rodriguez was driving when a drunk driver collided with the passengers' side of the vehicle, where Ray was seated. He was air lifted to OHSU.
For furthur reading
Homes
Esclava
Esclava is a fictional salon in the Fifty Shades trilogy. The salon is co-owned by Christian Grey and Elena Lincoln. Christian took all of his submissives to this salon for hair cuts and waxing.
Notes
The word esclava is Spanish for "slave".
Columbia Tower
Columbia Tower
 is the tallest skyscraper in downtown Seattle, as well as (according to real structure and number of habitable floors), the tallest building in the State of Washington. It has 76 floors.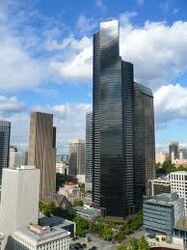 In Fifty Shades Darker, Christian took Anastasia here to eat. Ana describes the building interior as "It's very now and has the most head spinning views over Seattle
Escala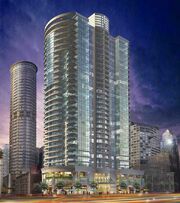 Escala is a 31-story luxury apartment building located at 1920 Fourth Avenue, Seattle, WA. The word escala is Spanish for "scale".
In the books
Christian Grey lives in a penthouse on the top floor.
Ros Bailey also lives in Escala, almost opposite from Christian's apartment.
For further reading
Heathman
The Heathman Hotel, is a luxury boutique hotel located in downtown Portland, Oregon. (Its full address is 712 SW Salmon Street, Portland, OR.) Originally constructed in 1927, the 10-story building houses 150 guest rooms and two restaurants.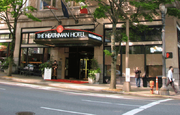 For further reading
Other
Sea Tac (airport)
Sea-Tac Airport 
is an American airport. It is located in SeaTac, Washington, at the intersection of States Routes 99, 509, and 518, about 1.5 miles west interstate 5. It serves the cities of Seattle and Tacoma, as well as the rest of western Washington state.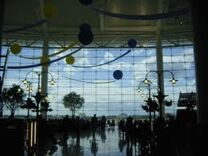 In the Fifty Shades trilogy, this is the airport that the characters always use.
Pike Place Market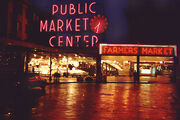 Pike Place Market is one of the oldest continually-operated farmers' markets in the United States. It first opened August 17, 1907. Over 200 independent small businesses operate in the market.
In the books
Kate 's father buys an industrially-styled, 3-bedroom apartment for Kate and Ana near Pike Place Market.
Note that there are apartment buildings in Pike Place Market, but they have traditionally been designated as low-income housing, and only studios, one-bedroom, and two-bedroom apartments are available. 
For further reading
Community content is available under
CC-BY-SA
unless otherwise noted.