Mia Grey is the adoptive daughter of Carrick Grey and Dr. Grace Trevelyan Grey and adoptive younger sister of Christian Grey and Elliot Grey. She has a crush on Ethan Kavanagh and they tentatively start dating near the end of the series.
Personality and Appearance
Mia is described as a very bubbly and outgoing person. She is fluent in French, plays the cello, and studied cooking in Paris. According to Christian, Mia refused to study martial arts at the age of 12, against her mother's wishes.
Mia is described as tall and curvaceous. She is raven-haired with a sleek bob haircut. 
In the Books
Mia invites Ana to have lunch and go shopping, but Ana accidentally schedules it when she has to work. She asks Ethan to take Mia out instead since he was at Ana's work when Mia showed up. He begrudgingly agrees, thinking she is Christian's "brat" little sister. He is stunned when he actually meets her and can't believe how good-looking she is.
When Christian's helicopter goes missing, she and her entire family wait with Kate, Ethan, José, Ana, Taylor, and Ms. Jones at Escala.
Jack Hyde and his accomplice Elizabeth Morgan kidnap Mia and hold her ransom for $5 million dollars. Elizabeth was able to abduct her as she was leaving the gym by drugging her with Rohypnol (roofies). Ana is able to foil the plan and save her, but is injured in the process. Mia is one of the few people who is not angry with Ana for attempting to rescue her.
Relationships
Mia is interested in Ethan Kavanagh, but he was uncomfortable with the idea because their siblings were dating (Elliot and Kate). After Mia's kidnapping and rescue, Anastasia notices that Ethan and Mia are holding hands, suggesting that he had gotten over what bothered him before.
Film Adaptation
On December 2, 2013 it was announced that Albanian-British singer-songwriter and actress Rita Ora, who later confirmed the news herself on Twitter, will be portraying Mia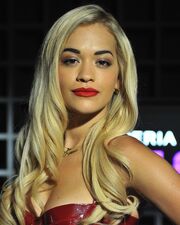 in the film version of 
Fifty Shades of Grey
, which is slated for release on February 13, 2015.
Community content is available under
CC-BY-SA
unless otherwise noted.