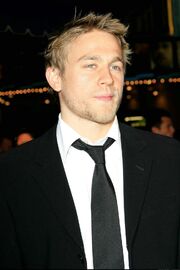 Charles Matthew Hunnam (born April 10, 1980) is a British film and television actor and screenwriter who first gained notice when he portrayed Nathan Maloney in the Channel 4 drama Queer as Folk. He is perhaps best known to American audiences for his work as Jackson "Jax" Teller in the FX series Sons of Anarchy. In addition to television, he has also worked in film, starring in such movies as Green Street (2005), Children of Men (2006), and Pacific Rim (2013).
Fifty Shades of Grey
After months of rumors and speculation, author EL James announced via Twitter on September 2, 2013 that Hunnam would star as Christian Grey in the film adaptation of her novel Fifty Shades of Grey. At the time, the film was slated for release on August 1, 2014.
Controversy
When the casting of Hunnam and Dakota Johnson was announced, it caused a massive outrage among fans of the trilogy. Many claimed that the two actors didn't fit the physical descriptions of either Christian or Ana. Some even started a petition on Change.org in order to replace Hunnam and Johnson. The petition garnered over 80,000 signatures. However, many Sons of Anarchy fans came to Hunnam's defense with many saying that even though he doesn't look like Christian, he has the charm, charisma, and sex appeal that Christian exudes.
Withdrawl from the film 
On October 12, 2013, it was announced that Hunnam had withdrawn from the film due to scheduling conflicts with his show Sons of Anachry. He was replaced by Irish actor Jamie Dornan.
UPDATE: It is rumored that Charlie actually left the film due to a poor script and creative differences with the team. After he departed the film and Jamie Dornan replaced him, the Fifty Shades of Grey filming start date was pushed back from November 2013 to December 2013, and the film release date pushed from August 1, 2014 to February 13, 2015, suggesting that scheduling was likely not the real reason for his departure.
Gallery