Below is a short description of all the cars appearing in the Fifty Shades trilogy.
Volkswagen
The Volkswagen Beetle (officially known as Volkswagen Type I) was an economy car produced by German automobile manufacturer Volkswagen from 1938 to 2003. It has since been retired in favor of newer designs of the Beetle line.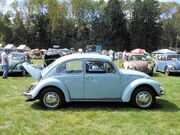 In the series:
Anastasia's original car is an old light blue VW Beetle nicknamed "Wanda", which she inherited from José's mother.
Christian sells Wanda for Ana once he purchases her an Audi A3 after she agrees to be his submissive. 
Audi A3
In the series: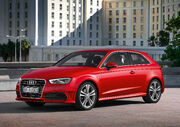 Christian purchases a red Audi A3. for each of his submissives because they are "the safest car on the market". Ana nicknames this car model "The Submissive Special". Anastasia describes it as a "hatchback two-door compact" car.
Audi R8 Spyder
The Audi R8 is a mid-engine, two seater sports car introduced by German automobile manufacturer Audi AG in 2006. 
In the series:
Christian drives a black Audi R8 "Spyder" (convertible).
Ana ends up liking it so much that he surprises her with one in white, for her 22nd birthday.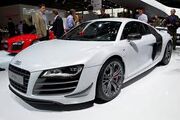 Mercedes CLK
In the Series:
Kate drives a black Mercedes CLK 
Saab 9-3
In the series:
After Ana's Audi A3 was vandalized by Leila, Christian takes her to get a new car and calls it a late graduation present. He picks out a Saab 9-3 2.0T Sport Sedan for her, instead of another Audi A3. Ana

chooses the color silver for her Saab, and that it be a convertible. 
The Saab becomes Anastasia's primary car before she receives the Audi R8 from Christian for her birthday. 
|-|Audi Quattro SUV= In the series:
This is the car Christian uses most often, typically driven by Jason Taylor. Ana describes this large black Audi SUV as "a beast of a car". 
Community content is available under
CC-BY-SA
unless otherwise noted.